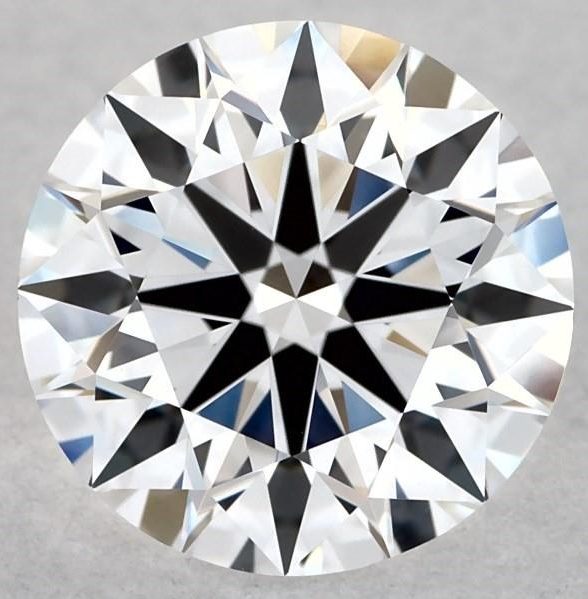 Simulated diamonds are not the same as natural and lab-grown diamonds as they are structurally different. 
The best and most common simulant diamonds found today is created with zirconium dioxide – an affordable and equally timeless option for those who want to stand out while spending less.
We believe that you don't have to possess deep pockets to get the jewelry you love and can cherish for years to come. Specializing in simulated diamonds – our work revolves crafting a superior piece of jewelry that is a combination of beauty, value, and modernity.
At 18 KARAATS, all of our simulated diamonds are lab-created in America and expertly hand-cut and hand-polished by expert craftsmen in Hong Kong. We only use the most impeccable and superb quality stones for all our jewelry, and every step in the process is meticulously designed to resemble natural diamonds and their flawless and enchanting qualities. 
Express your individuality and let your light shine bright by customizing your jewelry with us today!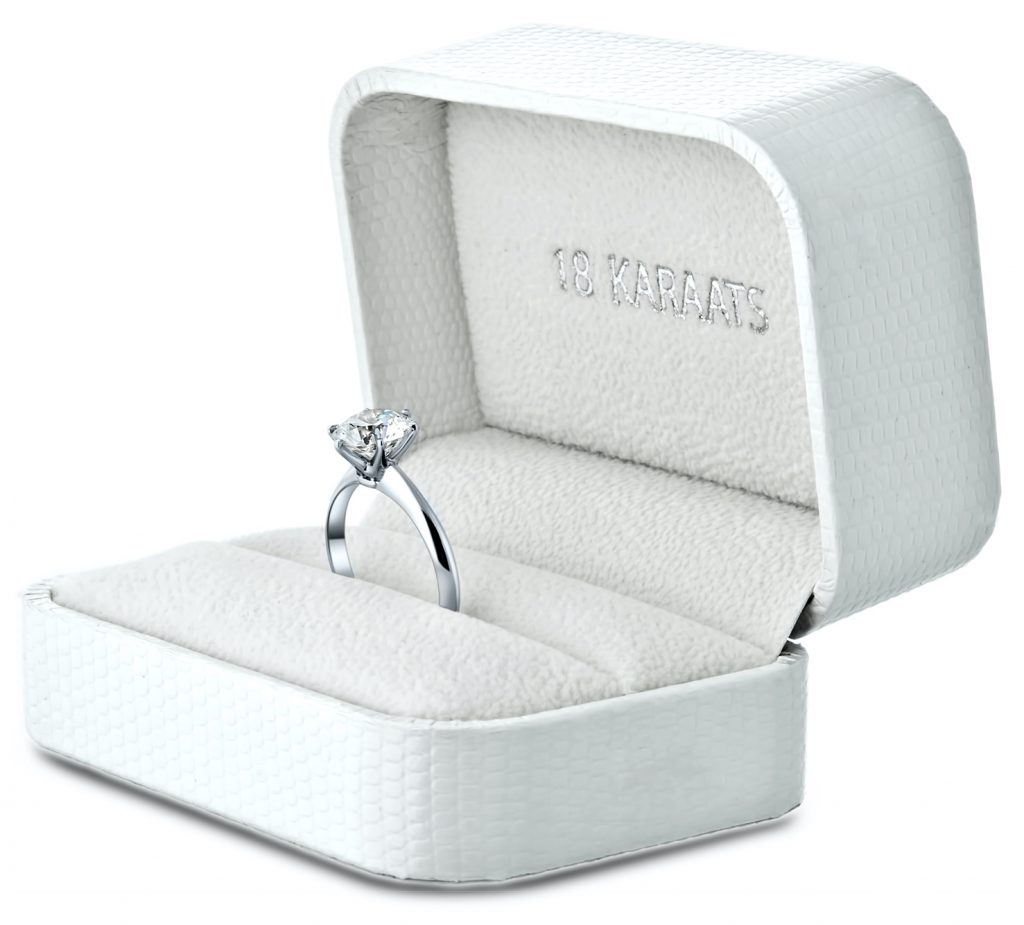 A GUIDE TO THE 4 Cs OF DIAMONDS
Our simulated diamonds are hand-cut to ideal symmetry and proportions that reflect the ultimate fire and brilliance. Using the 4Cs as a guiding light to perfect our stones, find out more about each factor and how our simulated diamonds compare next to natural diamonds in the grading system. 
Cut
Contrary to popular belief, the cut of a diamond does not mean its shape but instead, how well the facets of a diamond interacts with light and reflects back to our eyes.
The cut of a diamond is one of the most, if not the most important factor to achieve maximum brilliance, fire, and scintillation. Diamonds that are cut at precise angles and specific proportions will reflect light and disperse through the top of the stone and all angles; flashing with intense sparkle that emanates as it moves.
GIA currently grades diamonds on the scale of Ideal, Excellent, Very Good, Good, Fair, and Poor. The "ideal cut" looks the best on a round brilliant cut as it guarantees the greatest fire and brilliance. The following parameters are also recommended for a round brilliant cut: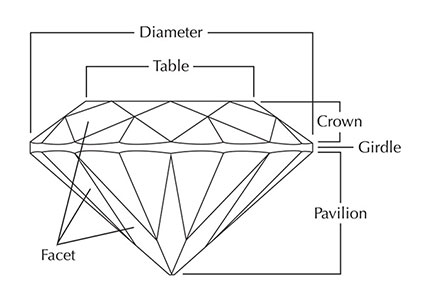 Table percentage: 53%-57%
Depth Percentage: 59%-63%
Girdle: Very Thick to Thin, faceted
Culet: Pointed or Non-Polish
All of our simulated diamonds are crafted based on these specifications, so you can be assured that you are only getting the best of the best. During the final finishing touches, synthetic industrial diamond power is used for maximum brilliance and to optimize your carat size!
Colour
Natural diamonds come in a multitude of colors such as yellow, green, pink, blue, and black. The color comes from impurities that become trapped inside the diamond as it grows.
Majority of diamonds are graded and categorized under the D–to–Z range:
D: The highest color grade that is extremely rare. These diamonds are colorless to the naked eye.
E–F: Diamonds still appear white and colorless to the naked eye, although there is a color difference when examined using a gemscope.
G–H: These diamonds are nearly colorless; however, there is a more apparent color difference between this category and diamonds that are graded D.
I–J: These are slightly tinted diamonds that can sometimes still appear colorless.
K–N: These diamonds are also slightly tinted, although it can be easily masked when set using different precious metals.
The most valuable and rare diamonds are the colorless D-rated diamonds – the standard that you can expect from all of 18 KARAATS's simulated diamonds!
Clarity
Diamonds are not perfect and naturally come with blemishes or "inclusions" that occur on its surface and within. This affects its appearance and how light reflects from it, and can be graded under these categories:

Internally Flawless (FL/IF)
Very Very Slightly Included (VVS1/VVS2)
Very Slightly Included (VS1/VS2)
Slightly Included (SI1/SI2)
Included (I1, I2, and I3)
Inclusions can create durability issues and indirectly impact the light performance and appeal of your ring. The truth is, you will hardly notice any inclusions unless you view your diamond under 10x magnification using a gem scope. However, we like to keep our diamonds at a minimum, Internally Flawless – reducing the number of inclusions as our diamonds are made in a highly-controlled environment. 
Carat
In essence, carat is the weight of a diamond. Not to be confused with karat, it is important to realize that small shifts in carat size can make a huge difference in the overall value and appearance of the ring.
While the carat is traditionally the most favored feature in a diamond, that is no longer the case. In fact, there are many tips and tricks that can be utilized to make a ring appear bigger without taking in the cost of a bigger diamond, such as working with a halo setting for an engagement ring.
The most common sizes for engagement rings are 0.25, 0.50, and 0.75, and can go all the way to 5.0. In general, the larger the carat size, the heavier the diamond, and the higher you pay for the diamond!
Since carat size doesn't apply to simulated diamonds – you can easily afford to go for a bigger stone without having to pay a premium. With real diamonds, you might have to settle with a smaller diamond, but that is never the case with diamond alternatives – the bigger, the better!
HEARTS & ARROWS PATTERN (H&A)
Accidentally discovered in the 1980s by Kinsaku Yamashita in Japan, the Hearts and Arrows (H&A) pattern has now become a marker of a well-cut diamond that boasts perfect proportions and symmetry.
Containing 58 facets that are precisely cut to produce 8 symmetrical arrows through the crown (top) of the stone and 8 symmetrical hearts through the pavilion (bottom) of a diamond – the H&A pattern ensures that the light reflected in a diamond is uniform and looks equally sparkly from every angle.
It takes a master craftsman to meticulously cut and patiently align the diamond's facets to achieve exceptional and unparalleled light performance and optical symmetry. Important to note is that stones that do not have the H&A pattern can still have great light performance and brilliance when it is well-cut.
Perfect for the romantics at heart, the H&A also represents the adorable cupid that holds its own romantic appeal and character. With its symbolism of innocence, romance, and being star-struck by love – we are proud to say that some of our ideal cut round brilliant stones feature the H&A pattern!

8 symmetrical arrows through the crown (top)

8 symmetrical hearts through the pavilion (bottom)
COMPREHENSIVE COMPARISON CHART
| | | | | |
| --- | --- | --- | --- | --- |
| PROPERTIES | DIAMOND SIMULANT | MOISSANITE | LAB DIAMOND | NATURAL DIAMOND |
| COLOR | D COLORESS | D – K | D-Z | D-Z |
| CLARITY | FLAWLESS | FLAWLESS | FLAWLESS TO INCUDED | FLAWLESS TO INCUDED |
| CUT | IDEAL (EXCELLENT) | IDEAL (EXCELLENT) | MOSTLY EXCELLENT | SPORDIC (EXCELLENT TO POOR |
| HARDNESS | 8.5 – 9.0 (CUTS GLASS) | 9.25 (CUTS GLASS) | 10 (CUTS GLASS) | 10 (CUTS GLASS) |
| INTERNAL FLAWS | NEVER | NEVER | YES & NO | YES & NO |
| HEART & ARROWS | YES | YES | MAYBE | MAYBE |
| FIRE/DISPERSION | 0.060 | 0.104 | 0.044 | 0.044 |
| REFRACTION/BRILLIANCE | 2.15 | 2.65 | 2.417 | 2.417 |
| POROSITY | 0.097 | 0.097 | 0.096 | 0.096 |
| FINAL POLISH | SYNTHETIC DIAMOND POWDER | SYNTHETIC DIAMOND POWDER | DIAMOND POWDER | DIAMOND POWDER |
| 1 CARAT PRICE | $380 onwards | $500 – $750 | $4000-$6000 | $12000 – $17000 |